In year 2020 money is in charge of all human action. Ultimate lifestyle and desire for money has together created the most dangerous and at the same time most popular TV-show ever. Itís called Tapporalli ("Killing rally"). In the show competitors are forced to destroy each others to win the grand price, 500 billion dollars. Movie is a story about boy and girl who meet in the show. But does the Tapporalli give any mercy...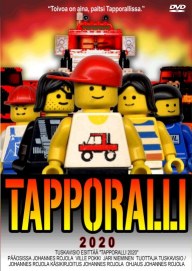 Tapporalli 2020 is production team Tuskavisioís first feature length project. Itís in 2002 released 69-minutes long construction brick -nonimation. In charge of planning and producing are Johannes Rojola, Ville Pokki and Rami Airola. Also contributed by Jari Nieminen, Markus Rantanen and awesome thrash-metal group G.O.R.E.!
Availability
DVD in Finland / DivX download in foreign countries from Tapporalli-site at Archive.org.
2020
Technical information
Reviews
Making Of
Interviews
Downloads
Soundtrack
Credits